How to Enter Single Day Attendance
On the Start/Current Classes page, click the chair icon next to the class for which you want to record attendance. In elementary schools, only HR teachers will record attendance with PowerSchool.
The icon appears below:

Single Day Attendance tab appears → select attendance code from the pop-up menu(please note that blank attendance codes count as Present so you will be marking students that are absent or tardy). Screen will appear as follows: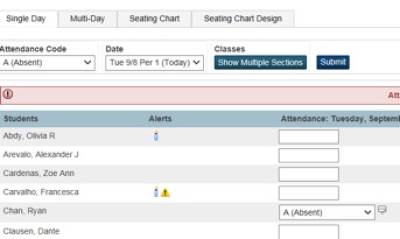 Click in the field next to the student's name to enter the attendance code you selected from the Attendance Code pop-up menu. Use the pop-up menu to select a different attendance code, if needed. Attendance code will appear as soon as you click on the field.
When an attendance code is entered, a comment icon appears. Click the icon to enter an attendance comment on the Edit Comments pop-up. Click OK to enter the comment for the student's attendance record.
Click on an icon in the Alert column to view the applicable alert pop-up.
When finished entering attendance and comments, it is VERY important to click Submit so that the front office knows that your attendance has been taken.
---
If you have issues that are not covered by the documentation please visit the Helpdesk.