Table of Contents
Using Self Service
Installing Software
Once open there are selections on the left hand side of the self service app. One of those is "Apps". Once selected you will see the applications available for download.
These apps are curated and maintained by the Scotch Plains Fanwood Technology department.
If there are apps you need that you don't see here please contact us via the Helpdesk and we will try to add them. If you are looking for it chances are so are your colleagues.

Installing Printers
Another available option in Self Service is "Printers".
Please only install district printers through self service. Installing via other methods may result in issues for both you and the other users in your building.
When you open the printers section in Self Service you will see all the printers available in the building you are currently in.
You can click the "Install" button next to your desired printer and it will be installed in a matter of moments.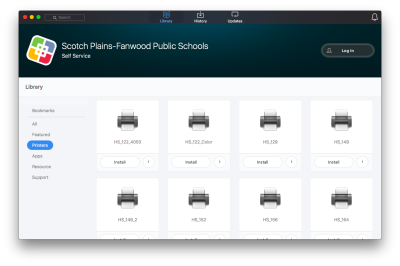 If you do not see a printer listed that you want to add please contact us via the Helpdesk and we will either deploy it directly to your computer or we will add it to self service.

District Links & Bookmarks
We have pre-bookmarked some regularly used and essential links and placed them in Self Service. They can be found under Bookmarks. Depending on the device you are using (one assigned to staff vs one assigned to carts/students) you will see different bookmarks. If there are links you think would be appropriate that you don't currently see please put in a request via the Helpdesk.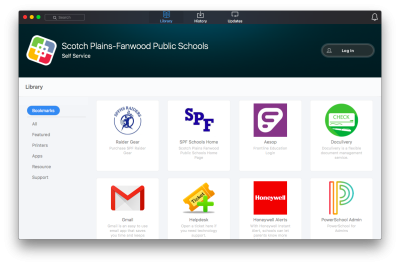 ---
If you have issues that are not covered by the documentation please visit the Helpdesk.