selfhelp:accounts:pwdmgmt
Table of Contents
iForgot
The Password Management page can be found at https://iforgot.spfk12.org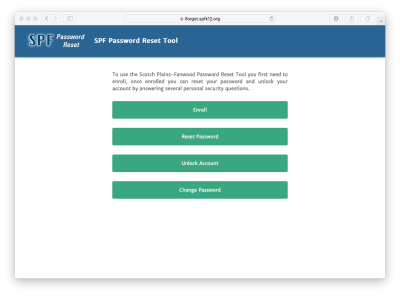 From the password management page you can enroll your account, change your password, reset your password if you've forgotten it or unlock your account (you must already be enrolled to use the last two features).
Enroll
If you have not already enrolled your account, on the home page select "Enroll"
You will be asked to enter your Account and Password. Then select Next.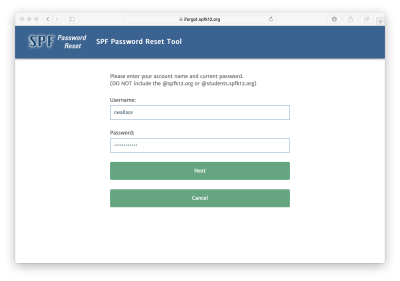 You will then be asked to choose 4 questions to respond to. You may create a custom question if you cannot find suitable questions. Please make sure these questions and answers are memorable. If you need to reset a forgotten password, you will need to be able to answer these questions to change your password. Hint: The answers to the questions should not be easily guessed or easily known/discovered by others. The answers need to make sense to you only. When you are done, select Next.

Your answers will be saved and you are now enrolled!
Reset Password
If you have forgotten your password and need to reset it, from the Password Reset home page select Reset Password.
Enter your Account and check the "I'm not a robot" box.
You will then be asked some of the security questions you answered when you enrolled.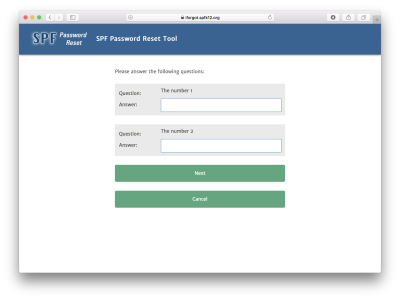 Finally you will select your new password. Press "Next" after you have typed your new password into the two fields.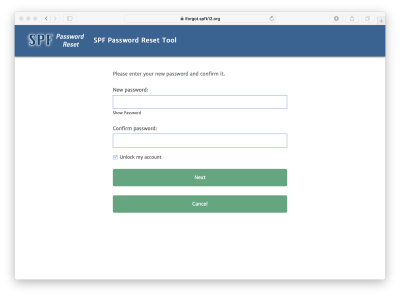 Change Password
If you know your password and would like to change it, from the Password Reset home page select Change Password.
Enter your account, old password, then enter your desired password twice.
Check the "I'm not a robot" box and click Next.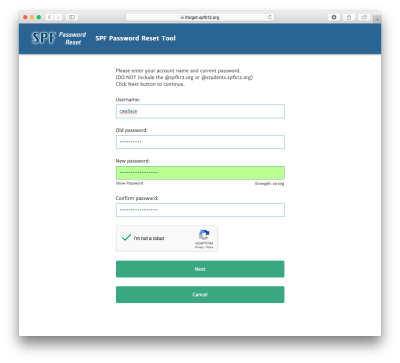 NOTE
If you change your password while your computer is outside the district, the password you use to log into your computer will not change until you return to the district and connect your laptop to the network.


After you have changed your password. If you have your account logged into any clients (e.g. an email client) please make sure to update the settings in those clients as they will attempt to log in and fail repeatedly causing you to be locked out of your account.
---
If you have issues that are not covered by the documentation please visit the Helpdesk.